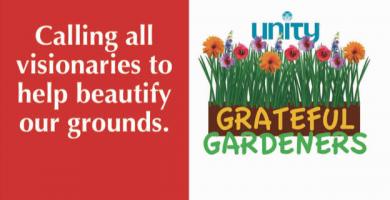 Now that the growing season is progressing, our Grateful Gardeners team leaders, Tom and Diane Spence will be in the gardens typically late morning on various days during the week. Help is always welcomed! It's a wonderful way to help keep our grounds beautiful, get exercise, and have fun with your church family.
Tom and Diane arrange a Nehemiah Work Day when many hands are needed for a project on our grounds. Nehemiah was a Jewish leader who supervised the rebuilding of Jerusalem in the mid-fifth century B.C. He prayed for help. Many people came out, each doing their small part, and rebuilt Jerusalem together. Unity Village hosts Nehemiah Service Retreats when they need help with a project. Volunteers attend a 4-day retreat, with Unity providing lodging and meals.
Contact Diane Spence at dianetfr@aol.com for more information on helping out during the week or Nehemiah Days.