Community Labyrinth Walks
Peace in Ukraine Labyrinth Walk
Sunday, June 5, 2022
2 p.m. to 6 p.m.
Presented by Chris Reynolds
$10.00 per person
$15.00 for couples and families with children
No one turned away for lack of funds
Please click here for more information on the Peace in Ukraine Labyrinth Walk.
Summer Solstice Labyrinth Walk
The Summer Solstice is Tuesday, June 21, 2022.
Join Prayer Chaplain Tina Thonning for our Radiating Love and Light Drumming Circle and Labyrinth Walk. Come for one or both!
The Drumming Circle is at 6 p.m.
Community Labyrinth Walk is at 7 p.m.
Please click here for more information on Sacred Circles, activities led by our Prayer Chaplains.
The Autumn Equinox is Thursday, September 22, 2022.
Community Labyrinth Walk: 6:00–8:00 p.m.
Theme:  Walking in the Present Moment
The Winter Solstice is Wednesday, December 21, 2022.
Community Labyrinth Walk: 6:00–8:00 p.m.
Theme:  Finding Your Light Along Your Walk
****

Our labyrinth is always open and open to all!
Deer photo by Jan Casey-Liber.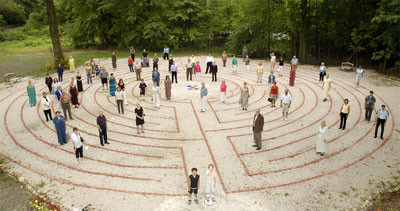 At 90 feet in diameter, Unity Spiritual Center's outdoor labyrinth is the largest in Ohio.
Unity's labyrinth is based on the design of the world-famous labyrinth at Chartres Cathedral in France.
The outdoor labyrinth is behind Unity Hall on the campus of Unity Spiritual Center. Unity welcomes people of all faiths to perform this walking meditation at their convenience.
The labyrinth is not a maze. There are no tricks or dead ends. It has a single circuitous path that winds into the center. You use the same path to return; the entrance becomes the exit. The path is in full view, which allows you to be quiet and focused internally.
Generally, there are three stages to the walk: releasing on the way in, receiving in the center, and returning or taking back out to the world that which you received.
The labyrinth is an ancient pattern found in many cultures around the world. Labyrinth designs have been found on pottery, tablets, and tiles dating back 4,000 years. Many patterns are based on spirals from nature.
The labyrinth is a tool to guide healing, deepen self-knowledge, and empower creativity. Walking the labyrinth clears the mind and gives insight into the spiritual journey. It urges action. It calms people in the throes of life transitions. It helps them see their lives in the context of a path, a pilgrimage. It helps to stir the creative fires within. To those in deep sorrow, the walk gives solace and peace.
Each of us has a different experience as we bring our unique hopes, dreams, history, and longings of the soul. It is truly a sacred place, an active prayer.
Unity Spiritual Center's outdoor labyrinth is free and open to the public. The labyrinth is open 24 hours a day all year long!
Please click on the drawing to review Unity's brochure with suggestions on walking the labyrinth.