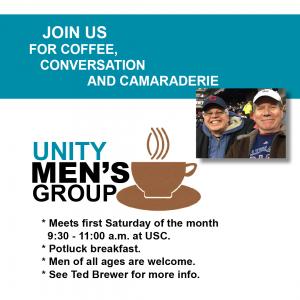 Mission
*To promote friendships among Unity men.
*To provide a forum for discussion of spiritual topics in a welcoming environment.
*To enjoy our company without obligation or service.
*No dues, no registration, loosely organized! Just show up with a breakfast item of any type. Coffee is supplied.
History
Unity Men's Group has been meeting consistently since February 2010.
Contact Ted Brewer for more information at tedbrewer@hotmail.com or 440-376-8019.