Our Sunday Service is at 11 a.m.
Join us in person or via livestream! 
Please click here for livestream options.
Meditation before Sunday Service, 10:35 - 10:45 a.m.
After Sunday Service, Prayer Chaplains are available in the Sanctuary to pray with you one-on-one. Join us for Coffee and Fellowship in the Community Room. Donations of baked goods or store-bought goodies (cookies, brownies, donuts) are always welcome. 
We are more than a Sunday Service! Click on the graphic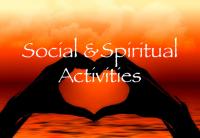 to look at our special events and ongoing activities!​
Our monthly Healing Circle follows Sunday Service on the third Sunday of each month. Please click on the graphic for details.
Welcome to Our Annual Fall Program
This year's book is Point of Power: Practical Metaphysics to Help You Transform Your Life and Realize Your Magnificence by Rev. Paul Hasselbeck.
Rev. Dr. Paul Hasselbeck is a rock star in the Unity movement, widely regarded as one of the leading authorities on metaphysics. "Metaphysics," he says, "is a fancy term for the branch of philosophy concerned with the fundamental nature of reality and Beingness." He was Dean of instruction for the Spiritual Education and Enrichment program for ten years. He has also written extensively about the 12 Powers, interpreting the original concepts of Charles Fillmore for modern readers. 
For more details, click here to visit our Fall Program page.
The colors are just for fun! Dress in the associated color for Sunday Service if you'd like.
Click here to follow along on our USC Westlake Community Facebook page and share in the discussion.
Week 1 - September 24, 2023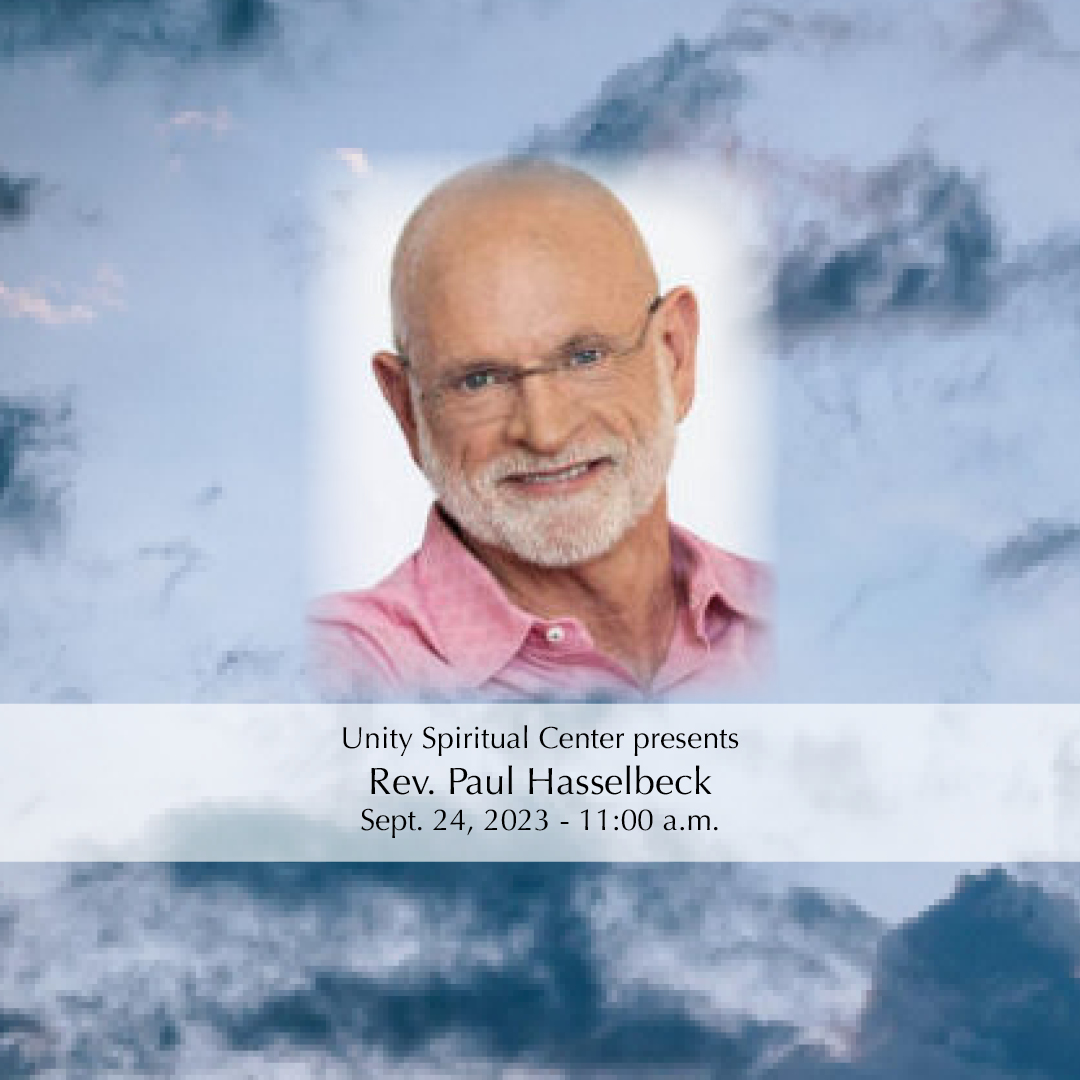 Speaker: the author, Rev. Paul Hasselbeck
Title: "God"     
Chapters 1 and 6
Color: Gold
Intention: I remember always there is only One Power and One Presence in my life: God the good.
Spiritual Practice: God, the one presence and power in the universe, is expressing through all people, the natural world, and all other aspects of life. This week, make it a point to spend more time in nature, noticing the beauty, natural rhythms, strength, and softness of the natural world. Do something that's out of your normal routine, like wake up to watch the sunrise, hike a new trail, have a picnic under your favorite tree, or put your feet in a body of water. Connect with nature as a way of feeling the One presence and power in the Universe, God. 
Week 2 - October 1, 2023
Speaker: Rev. Paul John Roach
Title: "Indwelling Christ"
Chapters 2 and 8
Color: Pink
Intention: I am God's magnificent creation.
Spiritual Practice: The divine image, the Christ, lives in every human heart. Make it a practice this week to recognize the indwelling Christ in everyone you encounter. Send them a blessing: The divine presence in me greets the divine presence in you. See their indwelling Christ in their eyes, smile, and presence. Acknowledge this light we share, and how we reflect it off of each other, reminding each other of our radiance. 
Week 3 - October 8, 2023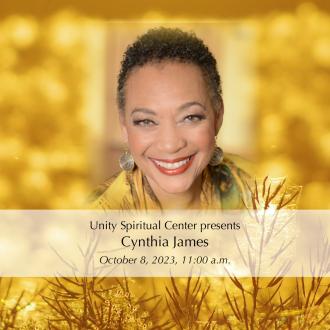 Speaker: Cynthia James
Title: "Prayer"     
Chapters 3 and 7
Color: Blue
Intention: I am a point of Power, unique, an unrepeatable expression of an unlimited God.
Spiritual Practice: We experience the world through our five senses. Take a few moments each day to express gratitude for your sense of sight, smell, taste, touch and hearing. Make it a mindfulness practice to gaze at a beautiful flower, smell your morning coffee, savor the taste of a freshly baked cookie, feel the softness of your beloved pet, or listen to the sound of wind chimes blowing through the wind. Be fully present and aware. Let these simple experiences feel like a prayer of appreciation. 
Week 4 - October 15, 2023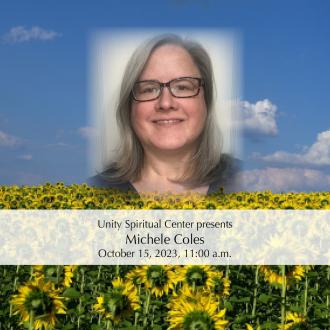 Speaker: Michele Coles
Title: "Meditation" 
Chapter 4
Color: Green
Intention: All that I am is God expressing at the Point of Power in me.
Spiritual Practice: This week, get outside and walk the labyrinth or an outdoor space that is available to you as a form of walking meditation. Take each step thoughtfully and mindfully. It can be used as a tool to "unwind the mind" and to let go of stress or worries and concerns. The labyrinth can be used as a metaphor for how you live your life. What can you learn about yourself as you walk it?
Week 5 - October 22, 2023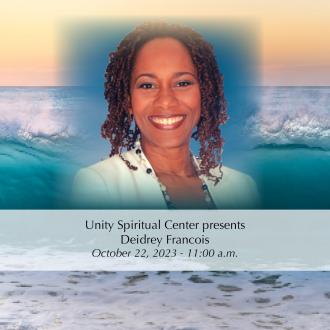 Speaker: Deidrey Francois
Title: "Law of Mind Action"     
Chapter 5
Color: Violet
Intention: I have the clarity, enthusiasm, and determination to demonstrate these Truths every day.
Spiritual Practice: Our minds are powerful. Energy flows where attention goes. Spend some time this week contemplating and getting clarity on what your Vision of Health looks like. What are the things you want to do? How do you want to wake up feeling? What are the daily practices that will cultivate strength and flexibility in your body, mind, and spirit? 
Week 6 - October 29, 2023
Speaker: Bruce Price
Title: "Spiritual Practice"     
Chapters 9 through 11
Color: Orange
Intention: All of Divine Mind is expressing at the point of me.
Spiritual Practice: What is a spiritual practice that you have always wanted to try but never did? Follow your curiosity, and try something that has stirred your heart and excited your spirit. This could be practices like mantra, volunteering at a non-profit that aligns with your values, reading spiritual poetry, making music, or planting a garden. Notice the nudges in your spiritual life. 
Youth and Family Ministry
Youth and their families are welcomed to the Spirit Room on Sundays at 11 a.m. on the second through the fifth Sunday of each month. Families can stay for the Opening Circle before joining Sunday Service in Unity Hall. The first Sunday is a multigenerational service, and children are invited to attend Sunday Service with their families.
Archives
You will find video archives of past Sunday Services on our Facebook page and YouTube page.
On Facebook, our Sunday Service archives show immediately. Enter "Sunday Service" in the search bar at the top of the page. Visit our Facebook Page.
On YouTube, our Sunday Service archives are shown immediately. Enter "Unity Spiritual Center Westlake" in the search bar at the top of YouTube.com. Archives appear on our YouTube page on Monday and are in date order. Visit our YouTube Page.