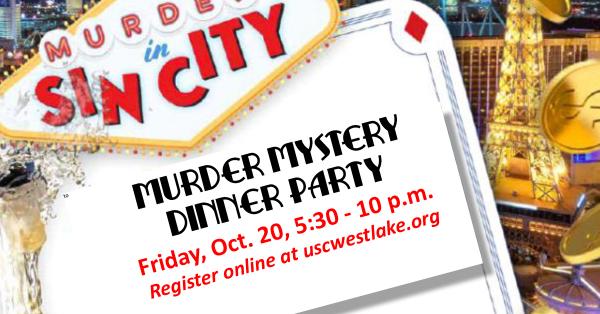 Las Vegas Murder Mystery Dinner Party
Friday, October 20, 2023.
5:30 p.m. to 10:30 p.m.
Interested in a lead role?  Contact our host, Michele Coles, at michele@uscwestlake.org or (216) 308-8436.
Cost: $50 per person for a catered dinner and mystery participation. 60 to 75 adults.
Click on the button below to purchase.
The plot, clues, and motives are revealed throughout the night. There will be a cash bar and a 50/50 raffle.
Everyone gets a part, but you need to sign up early to get on the A list of suspects. Attendees dress for their part in the mystery. Sign up early to give you time to receive a character and create a costume. The DEADline for sign-up is September 24, 2023. 
After the murderer is brought to "justice," we will have time for games and other frivolity. This is an all-interactive experience you won't want to miss. Everyone has a chance to question the suspects and to guess who dun it. Will it be you?
This will be set during the "Rat Pack" era, so the late '50s to early '60s. Everyone is invited to dress appropriately for that time period.
What happens in Vegas, stays in Vegas! As the largest and most extravagant casino on the Las Vegas Strip, The Casino is throwing a party of epic proportions. With the highest rollers and the gutsiest gamblers, the stakes are going to be high, and there is no limit to what could happen. Everyone who is anyone in Vegas is sure to be in attendance for this grand event. From the powerful politician to the sexy showgirl, the cunning cocktail waitress to Elvis himself–-the guest list of this casino murder mystery is as unlimited as the possibilities of how the night will end.
Like everything else in Vegas, the party will be a gamble, and there is no certainty about the events of the evening. Whose secrets will be exposed? Which lies will be uncovered? And who will fall victim to the lawlessness of the night? Your bet is as good as mine. Be prepared for a sinister night in a city known for its secrets and its scandal!
The DEADline to purchase tickets was September 24, 2023.