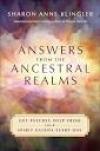 Messages from Spirit with Sharon Anne Klingler
Monday, October 3, 2022
7:00 p.m. to 9:00 p.m. in Unity Hall
Please join us at Sharon's first Messages from Spirit event in almost three years! This will be a very special event, celebrating Sharon's soon-to-be-released new book from Hay House, Answers from the Ancestral Realms.
Sharon will share insightful messages about relationships, work, and life with many audience members. Come and witness the power and healing of spirit communication!
The Registration/Door Fee is $20, and all proceeds will go to Unity Spiritual Center Westlake. You can pre-register or just show up on October 3.
To pre-register, please click on the button below.

If you are not able to attend the Message Event, look for the announcement of Sharon's new book in the next few weeks! There will be lots of great gifts to come!