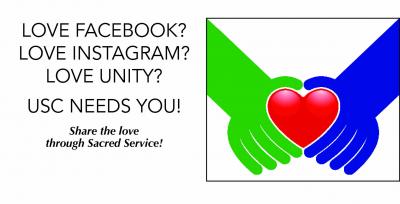 Our Marketing Team is recruiting Unity Ambassadors!  
Social Media Technician
An aggressive, talented social media technician that can take our church to the next level in social media marketing.
Social Media responsibilities would include:
 - Increase brand awareness through the effective use of multiple social media channels
 - Post Sunday services, events, and current group happenings consistently.
 - Work in conjunction with the Marketing Team.
 - Research and monitor social media trends.
 - Track and report analytics – increase conversion rates of social media advertising.
For details, please contact Marketing Lead Shirley MacFarland at shirleymac48@att.net.
Fair Ambassador
A friendly, outgoing Unity lover to represent USC Westlake at Harmonic Journeys' Holistic Fairs. This is a wonderful opportunity for one-on-one marketing to a like-minded audience. There are six fairs yearly, three at Unity and three at the West Shore Unitarian Universalist Church in Rocky River. To get an idea of a typical fair, please visit https://www.harmonicjourneys.net/holistic-fair-showcase.
Responsibilities would include:
- Work the table during the fair to talk to attendees about the joy of belonging to our church and the principles of Unity. 
- Recruit assistants, so you get a break and a chance to enjoy the fair. 
- Set up and tear down Unity's table at the fair.
- Let Roberta know when you need more marketing items.
For details, please contact Cindy Christman at cagc59@gmail.com.